The tomb of an ancient Egyptian queen previously unknown to history has been discovered this month.
Queen Khentakawess III (also referred to as Khentkaus III) lived in the fifth dynasty and is believed to have been the wife of Pharaoh Neferefre and the mother of Pharaoh Menkauhor Kaiu.
Until this discovery, this ancient queen was completely unknown to recorded history.
The tomb was found in Abu-Sir, South-West of Cairo, within the funeral complex of Pharaoh Neferefre. It is thought to be some 4,500 years old. Reliefs in the tomb referred to Khentakawess both as "wife of the king" and also as "mother of the king", which suggests that she was the wife of Neferefre and the mother of his possible son, the Pharaoh Menkauhor Kaiu.
When archaeologists discovered that the name Khentakawess had been inscribed on the walls, they dubbed her Khentakawess III, as there are two prior queens to have used the name, including the mother of Neferefre.
The queen's tomb held around 30 utensils fashioned from limestone and copper.
Phahaoh Neferefre's reign is believed to have been a short one. Modern scholars contend that he only reigned for one, or maybe two years at best. This is corroborated by data from the Turin King List and the fact that his tomb was never properly completed, but was seemingly rushed to competition following his premature death (detailed analysis of the king's remains suggests that he died in his early 20's).
Today, Egyptologists know the tomb of Pharaoh Neferefre as 'The Unfinished Pyramid'.
Pharaoh Neferefre was succeeded by his brother Nyuserre Ini, who is thought to have reigned for at least 24 years. Nyuserre Ini was himself succeeded by his nephew, Menkauhor Kaiu, apparently the son of Kentakawess III.
Pharaoh Menkauhor Kaiu ruled for 8-9 years and was eventually interred in a badly damaged tomb today known as 'The Headless Pyramid'
Tracking the lineage of Egypt's ancient kings and queens is a tricky task and the notion that Khentakawess III was the wife of Neferefre and the mother of Menkauhor Kaiu is disputed. However, at the time of writing this, the consensus seems to be that this is her likeliest place in history.
Egyptian antiquities Minister Mamdouh el-Damaty was hopeful that the discovery of this new tomb/monarch would help archaeologists and historians understand more about the Fifth Dynasty, which, along with the latter days of the Fourth Dynasty "witnessed the construction of the first pyramids".
Communication is extremely important in business, whether you're business offers a security service or just likes to keep certain departments in close communication. There are many options for you to choose from when it comes to effective communication within your business, but a two way radio system is by far one of the best.
Buying two way radios for business use can be extremely overwhelming, there are many different types of radios available on the market. Not being properly educated on the features and specifications of each one could have a very negative impact on your business.
Why Should I Choose Two Way Business Radios?
Using a two way business radio is much more advantageous compared to other communication options such as a mobile phone. When you decide to use a two way radio system, you're getting away from all the distractions that other communication methods have.
These business radios only have the features that you need, which will result in better communication, an increase in productivity, increased safety, and so much more.
Where Will I Use the Two Way Business Radios?
One thing that you need to think about before you decide which radio system to buy is where you will be using the radios. If the radios will be used mostly outdoors then a VHF two way business radio would be your best option . On the other hand, if radio usage will be confined mainly indoors then you'll want to go with UHF radios.
Speak with your local deal about your circumstances specifically, he/she will help you find the best radio for your usage requirements.
So What Types of Two Way Business Radio Are There?
There are four different types of two way business radios available on the market today. Let's take a quick look at each of these options:
Handheld — The most common type of two way radio, these are the handheld devices often used by security firms.
Vehicle mounted mobile — The best choice for drivers and anyone who will be spending long amounts of time in a vehicle.
Desktop base station — These radios connect to a main power source and an external antenna to achieve an excellent range.
Repeater base station — A repeater base station is a device that can boost the operational range of your radio systems.
How Do I Choose What Sort of Two Way Radio System I Need?
You need to think about what sort of radio you'll need, there are many varieties available. Think about how many people you are planning to have on your frequency, what operational range you'll need, what type of radio system (we've discussed this above), your budget, and other factors. It's always a wise decision to talk with your local radio dealer.
There are also a few extra features that you might want to consider. For examples, if you would like your two way radio system to have an emergency call feature, selectable power, or any type of accessories, this is something you should think about.
Analogue or Digital Two Way Business Radio?
Choosing between an analogue or digital two way business radio is extremely important and something that you'll definitely want to consider. Apart from lower cost, there really isn't any reason to choose an analogue radio over a digital one.
There are many benefits with digital two way radios when compared with analogue. Digital radios can handle more users, offer better sound quality, and provides more stable audio.
Closing Notes
Two way radios can be extremely beneficial for just about any business, as proper communication is becoming more important each and every day. You need to make sure that the radio you decide to purchase meets your criteria and can fulfill your needs properly. The advice and guidance given above will help you with this.
Don't forget that you will need a license to operate your business radios, this can be acquired by reaching out to Ofcom. 2wayradionline should be able to help you with your license application and your radios.
Oh, now THIS is cool. A new phone unveiled by Chinese corporation Lenovo (makers of the Ideapad tablet, amongst others), will be able to project interactive objects, such as virtual keyboards or piano keys onto almost any flat surface.
The 'Smart Cast' phone (which could have been branded better, it has to be said) will also be able to project videos and photographic content onto walls, desks or any other flat surface, allowing the user to share videos (and even potentially screen movies) with multiple viewers.
The phone is able to project a fully functional replica of its own touch screen, or even a full-size computer keyboard if desired.
Despite being utterly tiny (34mm x 26mm x 5mm), the phone's laser projector does not need focussing in order to project far larger images onto walls, desks, or anywhere else you might need to project an image (and for all you nerd lings aiming on creating a pocket Bat-Signal, forget it. I got there first!).
The projector itself can also be manually moved into at least one other position, which ensures that the projection quality should always be first rate.
…It even has a motorbike style kickstand to keep it upright when you're using the virtual keyboard. How cool is that?
Justifiably proud of their new creation, Lenovo hired Chinese concert pianist Lang Lang to play the phone's virtual piano as projected on the desk in front of him. I suppose they could afford to, as it was recently announced that their profits are up 20% from last year.
Of course, projector phones have been explored in the past, usually without success. The Samsung Galaxy Beam, released in 2012, was a failure of Star Trek: Into Darkness proportions (the joke being in the 'beam me up' area – in case you missed that) and the technology is notoriously hard to use. Still, perhaps this time somebody has finally gotten it right? Time will tell…
Sadly for us Brits, the Smart cast phone seems unlikely to be released here in the UK, so for us, it's all a moot point in the end.
The Smart Cast phone was officially unveiled at Lenovo's Tech World conference in Beijing, China, an event that also saw the debut of a new smartwatch, which has a 'public' and 'private' mode for some reason (all I can imagine it would be useful for is if somebody asked you the time whilst you were watching porn – at which point, keeping the screen on your wrist would defeat the object somewhat anyway).
It is open to interpretation as to whether or not the Smart Cast phone will be a stroke of consumer electronics genius or a costly failure, but for now, the early buzz certainly looks intriguing and you can pretty much guarantee that various engineering bigwigs employed by other developers will be following its progress with interest.
The BBC has unveiled a new piece of tech that sci-fi icon Doctor Who himself would be impressed by.
The corporation has started developing a low-cost brainwave-reading headset that will allow users to open a new version of iPlayer and control it using their mind.
The BBC has been working with This Place on an early prototype called 'Mind Control TV', which can read the user's brainwaves and send signals to an experimental version of iPlayer to select a TV programme to view.
At this stage it's an internal prototype that is being used by the BBC's programme-makers, technologists and other users to give them an idea of how it can be employed in the future.
The main advantage of this technology would be to improve accessibility for those with disabilities, while future applications could include a more convenient user interface.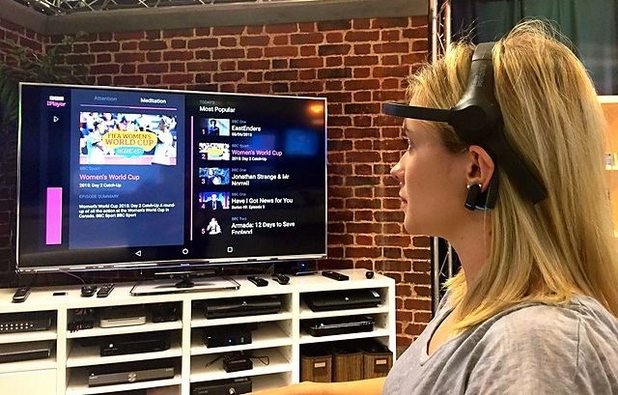 The 'Mind Control TV' is in the very early stages of experimentation and the technology doesn't yet work with the existing iPlayer application.
However, does it actually work with a special version of the software? Cyrus Saihan, Head of Business Development, BBC Digital says: "In a word, yes.
"Our first trial run saw 10 BBC staff members try out the app, and all were able to launch BBC iPlayer and start viewing a programme simply by using their minds.
"It was much easier for some than it was for others, but they all managed to get it to work. And it's been a similar story for everyone who's tried it out in our BBC technology Blue Room since."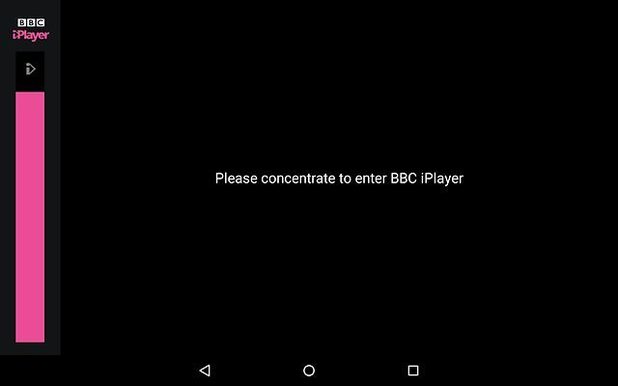 Explaining why the BBC and This Place decided to focus on mind control, Saihan said: "A subject popular in works of fiction is the ability to control things just by using your mind.
"The idea of being able to simply think about something and then magically make it happen has fascinated people for many years.
"Whether it's using 'the Force' in Star Wars, spoon bending on stage or The Matrix, controlling objects simply with your brain has a unique appeal and could open up a whole world of possibilities."
He continued: "So when we learnt that new technologies were now available in the market that allowed you to control electronic devices by measuring the brain's electrical activity, we wanted to experiment with the technology to see what types of audience experiences this might result in.
"There were two areas that immediately stood out for us: improving accessibility and the potential of a new user interface."
The BBC has stressed that the new technology is in its infancy, but brainwave-reading devices are rapidly improving despite their basic capabilities at this stage. To find out more about the project, visit the BBC's Internet Blog.
Read more: http://www.digitalspy.co.uk/tech/news/a653630/mind-controlled-tv-developed-by-bbc-in-amazing-iplayer-experiment.html#ixzz3gWv82VjT
Follow us: @digitalspy on Twitter | digitalspyuk on Facebook
The people of Humboldt can be proud of their new city entrance, it is in the shape of a bluetooth earpiece, The monument appears to be in the shape of an earpiece sat up-wards, it's a long leap to see it from the road (see image) but it definitely resembles a bluetooth earpiece.
Last week, the South Entry Project study group unveiled its latest plans for improving user experience for travelers entering our fair city. One of the most visually notable components of the facelift proposed by Redding-based engineering group Green Dot Transportation Solutions is a spiral concrete sculpture thingamabob to be constructed just south of the Herrick Avenue overpass (see below).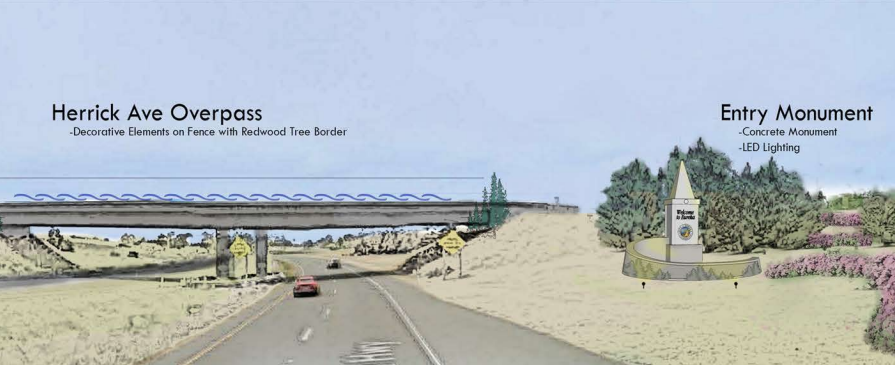 What does that thing look like? LoCO asked itself. Then it hit us. It looks like a Bluetooth earpiece, of course! Amirite? Maybe we're promoting safe driving, here? LoCO no know.
Anyway, the sculpture, as well as other less earpiece-ish aspects of the South Entry Project — trees, medians, etc. — are the result of months of meetings wherein community feedback was sought. Since LoCO knows our readers prefer things to be on the interwebs, we will direct your discerning eyeballs to the "Preferred Alternative" page of the Eureka South Entry website where you can scope out some visuals of planned enhancements.
According to the North Coast Journal, Green Dot still needs to submit the plan to Caltrans for approval. After that, the Eureka City Council can choose to vote this glorious tribute to safe, hands-free devices into reality.
Addendum: Many LoCO commenters have expressed indignation that the city should be spending money on this type of project when more serious issues exist. This is an entirely understandable sentiment, though it should be noted that, so far, the city has only paid for a study, the majority of which ($45,000 of the $75,000 price tag) was funded by a grant from the California Transportation Commission.
City Engineer Charles Roecklein said the city will pursue more grant funding to finance the construction of the project itself, assuming it gets that far. And he's optimistic about finding those funds. "It's like the mayor said, somebody'sgonna get those grant funds," Roecklein said. "There's grant money for this kind of project."
Source -Â http://lostcoastoutpost.com/2015/apr/27/look-eurekas-tribute-bluetooth-earpiece-could-soon/
If you aren't a lonesome wolf and like to go on hunting trips with your friends or partner, you should consider finding some high quality two way radios for communicating while hunting. With these radios, you can communicate with the entire hunting party even when you are far away from them out in the forest. If you are looking for a discreet way of contacting your hunting party members, then two-way hunting radios are just what you need.
What Makes Two Way Radios Essential While Hunting?
The hunting ground usually spreads across thousands of acres, and you could need assistance at any time while you are stalking your prey. Whether you need help with some field dressing or your partner needs assistance in cleaning the prey that have just put down, you need a way to communicate out in the wild. While mobile phones can be used for communication, the network is never reliable, especially in the great outdoors.
Since two way radios have incredible range distance, you won't have to worry about being too far away from your hunting party. It is important to stay camouflaged in the wild while hunting, which makes two-way radios perfect since they won't make a ringing noise. Imagine how frustrating it would be to be within shooting distance from a deer when your phone starts ringing. Moreover, these radios are ideal when you have younger hunters with you on the trip. With just click of a button, you can communicate with them and ensure that they are alright.
What Should You Look For In A Two Way Radio For Hunting?
There are a few things you need to look out for, before you go out and buy a pair of two way hunting radios. Buying just any set of walkie talkies won't do the trick, you need communication equipment that blends in with your hunting gear and works well for you when you are out on the hunting grounds.
Long range
Long lasting battery life
Camo design for stealth
Support for headsets
Water resistant or waterproof
NOAA weather info display
The longer the range of the radios is, the stronger the signal will be, which is essential for hunting. A radio with at least 1 mile radius should be sufficient for undisturbed communication through the forest with thick brush that can cause signal blockage.
If you are out for a big hunt, you will be on the ground for an entire day. This means that the two-way radio must have enough battery power to last you a day, or must have removable batteries which can be replaced with AA or AAA batteries.
A waterproof radio is essential in the wild, so is the NOAA weather information to alert you of any of the weather changes. It is equally necessary for the two-way radio to have headset support, since you do not want to spook the animal with the sound of the radio.
The Best 2 Way Radio For Hunting
The two way hunting radios by Motorola can be considered the best set that money can buy. These 2 way radios are waterproof and come with a 35 mile radius, matching all the requirements mentioned above to be one of the best two way radio for hunting.
Coming from a revered brand such as Motorola, these are quite cost effective, with a £150 price tag, however. The 35 mile radius is the ideal range that will give you undisturbed communication, along with nickel–metal hydride batteries that can be replaced for lithium ion battery life.
The camo pattern on the exterior and the NOAA weather alerts make it ideal for your hunting trip. The device is not only waterproof, but floats on water when you drop it. The design of the two-way radio has been engineered to give you a comfortable grip all day long, and the anti-slip ridges ensure that the radio does not slip out of your moist hands while out hunting.
Professional Equipment
Motorola is an old name in the world of wireless communication, and has a track record of delivering brilliant devices. The Motorola DP1400Â two way radio is one such product, which matches the features of the Motorola DP2400.
This 36 mile radius radio has all the features of the latter, but comes with a lower price, So If you are in search for an excellent two -way radio for your next hunting trip, the Motorola DP1400 is the way to go. Finding the cheapest price is hard in the local store, so get the best deals on this two-way radio online Store.
"EVERY SINGLE DAY, I see at least five or six people with headphones on while cycling," says Gemma Roper. The designer and recent graduate of London's Royal College of Art finds the habit a troubling distraction but also an understandable tactic of using music to soften a harsh daily commute.
The problem is that cyclists also need to stay alert to certain sounds in order to be safe while weaving through traffic. Riding is already dicey in London, Roper says, because the local infrastructure accommodates bus and car traffic over cyclists. The city has seen eight cyclist fatalities so far this year; last year, there were 13. Roper decided that music pumping through earphones shouldn't contribute to the risk. Her Safe + Sound headphone design uses bone conduction to play tunes through wearers' cheekbones, instead of directly into their eardrums, so they can still detect ambient noise.
Bone-conduction headphones work by playing soundwave vibrations on top of bones, which then transmit the waves into to the Cochlea, or inner ear, bypassing the delicate eardrum. It could work anywhere on the body but works best near the ear. The technique itself is old—Beethoven, who was deaf, crafted a crude conductive listening device by biting on a metal rod attached to his piano—and a few other headphone makers have rolled out models using the technology in recent years.
Roper's Safe + Sound are made with cycling helmets in mind. Most of the bone-conduction headphones on the market are wrap around the ear (like these, and these), with nodes that rest more or less where a helmet strap would sit. Asking cyclists to layer up headgear is an uncomfortable and unreasonable ask. At the same time, making any modifications to the helmet that might deter a rider from wearing one is out of the question. So Roper created something that could clip onto to a helmet's straps. While testing out the idea, she also found that asking cyclists to tote around two pairs of headphones will slow down adoption, so her buds convert into a regular pair of headphones; the modular bone-conducting pieces fit magnetically into a pair of gold muffs.
London has yet to pass a ban on wearing headphones while riding a bike, and only five states in the U.S. forbid the practice. For now, Roper's design, a working prototype, could be the transitional object cyclists need before giving up their headphones cold turkey.
Wearing a headset or a pair of earphones whilst cycling is a dangerous game to play, particularly in busy cities. This headset from broadbandchoices.co.uk is a simple idea and more importantly is safe. 
As this article shows rules on what information can be relayed from the team to the driver over the radio have been restricted, it actually started last season and has been carried over.
Drivers racing the 2015 season will still be subject to the same radio message restrictions imposed by the FIA last year, with the governing body adding that a "a few more" may be included before the start of the season.
Last year, in response to a belief that information being relayed to drivers by engineers concerning performance was against the spirit of article 20.1 of the Sporting Regulations, which state that "the driver must drive the car alone and unaided", the FIA contemplated a blanket ban on radio traffic between teams and drivers concerning car and driver performance.
However, following consultation with teams, officials modified their position, saying, at the Singapore Grand Prix, that it would delay restricting car performance messages until this season due to the complexity of introducing the ban at short notice and the potential for differing effects among teams. The FIA issued a revised advisory specifying a range of messages that would no longer be permitted.
According to an FIA spokesman the F1 Strategy Group has now ruled that the current restrictions are sufficient and that race officials will expect teams to continue to respect the technical directive issued in Singapore.
"The Strategy Group, from whom the original request to limit what messages could be delivered to the drivers, now feel that the balance is right by only limiting messages that can be considered driver "coaching"," said the FIA spokesman. "Therefore, the only messages we will not permit are those listed in TD/041-14 from last year."
He added, however, that there is still scope for further message types to be prohibited.
"We may add a few to this before the start of the season and re-issue the TD," he said.
The issue of driver coaching is of particular relevance this year to teams such as Toro Rosso, who are fielding two rookies, including F1's youngest driver, 17-year-old Max Verstappen.
Toro Rosso's Franz Tost was strong opponent of the coaching ban, with the team boss saying last September that the changes contained in the technical directive.
"The changes are absolutely not necessary," he said during the FIA's press conference in Singapore.
"All the information the drivers get is also entertainment for the people in front of the TV to hear," he added.
"For us of course it's a big disadvantage because the more un-experienced the driver is there's more information you have to give him.
"For me it's absolutely nonsense what we are discussing here because in all the other kinds of sports a coach gives some informations, instructions to a football player, for example, on the sideline or wherever.
"This does not mean that the sportsman is not able to do his job, he can do his job, he does do his job, but maybe he can do it in a better way, it's just a performance improvement. Therefore I don't understand it."
Under FIA technical directive TD/041 messages concerning the following are not permitted (either by radio or pit board)
–Â Â Â Â Â Â Â Â Â Â  Driving lines on the circuit.
-Â Â Â Â Â Â Â Â Â Â  Contact with kerbs.
-Â Â Â Â Â Â Â Â Â Â  Car set up parameters for specific corners.
-Â Â Â Â Â Â Â Â Â Â  Comparative or absolute sector time detail of another driver.
-Â Â Â Â Â Â Â Â Â Â  Speeds in corners compared to another driver.
-Â Â Â Â Â Â Â Â Â Â  Gear selection compared with another driver.
-Â Â Â Â Â Â Â Â Â Â  Gear selection in general.
-Â Â Â Â Â Â Â Â Â Â  Braking points.
-Â Â Â Â Â Â Â Â Â Â  Rate of braking compared to another driver.
-Â Â Â Â Â Â Â Â Â Â  Rate of braking or application of brakes in general.
-Â Â Â Â Â Â Â Â Â Â  Car stability under braking.
-Â Â Â Â Â Â Â Â Â Â  Throttle application compared to another driver.
-Â Â Â Â Â Â Â Â Â Â  Throttle application in general.
–Â Â Â Â Â Â Â Â Â Â  Use of DRS compared with another driver.
-Â Â Â Â Â Â Â Â Â Â  Use of any overtake button.
-Â Â Â Â Â Â Â Â Â Â  Driving technique in general.
The IWCE was a great event this year, with lots of great companies and exhibitors. Particular noted showcase's were Pryme and their new Bluetooth range. You can find the original source of the article on this website 
Pryme Radio Products recently showcased four accessories that leverage Bluetooth technology as the California-based manufacturer continues to expand its product portfolio supporting both two-way-radio and cellular users.
Introduced at IWCE 2015, Pryme Radio Products' new BTH-600 is a heavy-duty Bluetooth wireless speaker microphone that supports push-to-talk (PTT) capability on two-way radios, according to Pryme Radio Products President Dave George. By loading different software into the headset, the user can utilize PTT applications that are available on cellular phone, he said.
Based on Pryme's Storm Trooper platform, the BTH-600 is waterproof and utilizes an off-the-shelf, rechargeable cell-phone battery, George said.
"One of the coolest things about it is that it's got a big battery—it can run for 40 hours of continuous duty on a single charge, and it can be in standby mode for 30 days," George said during an interview with IWCE's Urgent Communications. "
The BTH-300 is a small, lightweight clip-on box that converts any wired Apple iPhone accessory into a Bluetooth headset, according to company literature. Featuring 10 hours of battery life, a built-in PTT switch and a built-in noise-canceling microphone, the BTH-300 can be used during covert operations—there is no visible LED light—and supports both radio and cellular communications, George said.
"This will work both with radio dongles and with cell phones at the same time," he said. "It has a separate button on it for answering phone calls, and it has technology inside of it that will allow you to prioritize whether you want to ignore the two-way-radio calls while you are on you cell phone, or whether you want to ignore the cell phone calls when you are on a two-way-radio call."
For those using Motorola Solutions' XPR-3300/3500 series radios on a MOTOTRBO network, Pryme Radio Products has developed the BT-M11, which is a Bluetooth adapter that attaches directly to the radio with a patent-pending locking mechanism, George said. Previously, Bluetooth chips were so large that Pryme's Bluetooth adapter had to be attached with a cable, he said.
"Now that the Bluetooth chips have gotten much smaller, we're finally able to get it inside the small connector," George said. "So, we've designed a new small connector that will attach directly to the side of the radio and contain the Bluetooth technology."
Despite claims that the WWE padded out its attendance figures from 67,000 to 76,000 fans, the eagerly anticipated 31st annual WrestleMania was generally well received by the majority in attendance, as well as those watching at home.
The event took place at Levis Stadium in Santa Clara, San Francisco, making it only the sixth open-air WrestleMania event in WWE history. The card featured, amongst other matches, a seven-man ladder match for the companys Intercontinental Championship, a dream match of sorts between WWE veteran Triple H and former WCW mainstay Sting and a main event of Brock Lesnar Vs. Roman Reigns for the WWE World Heavyweight Championship.
The main card kicked off in spectacular fashion, with fan-favourite Daniel Bryan picking up the gold from defending champion Bad News Barrett. Bryan headlined last years 30th anniversary event, but was sidelined by a serious neck injury not long afterwards. His victory at WrestleMania XXXI marked a triumphant return to Championship form for the man known as much for his skilful wrestling as he is for his popular "YES! YES! YES!" chants.
Not long afterward, Bryan was congratulated backstage by a plethora of wrestling legends (and former Intercontinental Champions) including Ricky The Dragon Steamboat, Bret Hitman Hart, Rowdy Roddy Piper, Nature Boy Ric Flair and Pat Patterson, the first ever Intercontinental Champion.
Fans were also treated to a heated grudge match between Seth Rollins and former WWE Champion Randy Orton. The match was tightly contested, with Rollins security men causing regular distractions to Orton from the outside. At the climax of the fight, Orton managed perform his signature move, the RKO, almost from midair, as Rollins attempted his Curb Stomp finisher. Visually, this made for an incredible finish, as The Viper picked up the win.
The matchup between Triple H and Sting was billed as a dream match of sorts, and Sting was presented to fans as being the last survivor of the fabled Monday Night Wars – a period of time in wrestlings recent history marked by a ratings war between the then-WWF and its nearest rival WCW. This was rather odd, as Sting had in fact been competing for the TNA promotion for many years after the fall of WCW.
Triple Hs Terminator-themed entrance (complete with virtual ring announcement by Arnold Schwarzenegger) was an impressive sight to behold, but, despite this, the match didnt really find its footing until near the end. However, instead of a satisfactory conclusion to a one-on-one match, the WWE staged a microcosmic version of the ratings war by having its D-Generation X stable reunite in support of Triple H as WCWs New World Order group came to the aid of Sting.
Although well received by Attitude Era fans, this probably proved confusing for some of the younger audience members. At the finale of the match, HHH defeated Sting in fairly predictable fashion, but the pair shook hands when all was said and done, indicating that any animosity between WWE and WCW was finally over (of course, the company purchased WCW in 2001, so the point was actually moot before it was made).
Elsewhere on the card, WWE Divas A.J Lee (who retired from active competition shortly after the event) and Paige saw off The Bella Twins in an enjoyable matchup, whilst John Cena won the United States Championship from the (at the time) undefeated Rusev. In the storyline leading up to the event, Rusev and his manager, The Ravishing Russian Lana had been denigrating the United States in an angle not a million miles removed from the plot of Rocky IV, so it was up to John Cena to put them in their place – which he did.
Next up was the long-awaited return of The Undertaker to face the villainous cult leader Bray Wyatt. Fans were teased regarding Takers return, as announcers speculated that he might not actually show up at all.
Up until last year, The Undertaker had remained undefeated at any WrestleMania event, and, in fact had held a 21-0 win/loss record, known to WWE fans as The Streak. However, The Streak had ended at WrestleMania XXX, arguably the biggest shock in WWE history – and The Deadman hadnt been seen since. Many fans had speculated that he had actually retired.
Eventually, after much taunting from Wyatt, a loud bell rang and Undertakers entrance music began to play. The match was a far better showing from Undertaker than the previous year (probably because he was concussed for most of his WMXXX matchup), with both men working the crowd into a frenzy before Undertaker picked up a clean and decisive win (as it should be). Bray Wyatt was working hurt throughout the match, but both Bray and his opponent covered for it extremely well.
The main event was a match between WWE Champion Brock Lesnar and 2015 Royal Rumble winner Roman Reigns. Reigns, formerly a member of fan favourite stable The Shield, is the son of Wild Samoan Sika and is therefore a cousin to WWE legends The Rock, Yokozuna and Rikishi and a relative of multi-time WWE Tag Team Champions The Usos. WWE management was obviously very hot on Reigns being their next big star, but the fans had other ideas.
Unanimously booed after his Royal Rumble victory in January, Roman Reigns has been declared by wrestling journalist Dave Meltzer as the least popular wrestler ever to headline a WrestleMania main event. Perceptions of Reigns stem from his being unready and/or too inexperienced for a top spot within the company, to his simply not being a main event calibre-wrestler. In either instance, Reigns (booked to be the good guy or babyface in the match) was unpopular in the main event and actually had to be led to the ring by security guards.
Lesnar, usually a heel (industry term for a bad guy), found himself in an awkward position of garnering some cheers from the crowd – and, perhaps as a result, his offence eclipsed Reigns by a significant margin. The former UFC Champ, himself a target of much fan-criticism due to his status as a part-time WWE employee, threw Roman Reigns about like a veritable rag doll. Reigns signature moves (the spear and the Superman Punch respectively) were apparently ineffective against Lesnar, who simply kicked out of each and every pin attempt.
The feel of the main event struggled from the lack of the clear-cut good guy/bad guy dynamic so prominent in pro wrestling, but WWE creative had obviously anticipated this, so a genuine surprise was still waiting around the corner…
Seth Rollins, Reigns former tag team partner, emerged from the back brandishing his Money in the Bank briefcase – a storyline-item that grants the bearer a title match at any place or time of his choosing – and cashed in his contract, leaving WrestleMania XXXI as the new WWE Champion.
Rollins has long been regarded as one of the industrys brightest stars. From his days in independent promotions like ROH to his time in WWEs developmental series NXT, the man formerly known as Tyler Black has been a consistently impressive performer and had been nominated by many as a future World Champion.
Apparently, WrestleMania XXXI was his moment to shine – and he did, garnering more heat (industry term for fan reaction to a villain) than either Lesnar or Reigns had managed during the entire match. This set up an interesting story that could play out over the next few months, with Seth ducking and dodging challengers Lesnar and Reigns in his quest to keep the title.
Overall, WrestleMania XXXI received generally positive reviews from fans and critics alike, being named as one of the greatest Manias ever by more than one critic. From this fans perspective, however, it lacked the polish and power of WrestleMania XXX, being dragged down by an ambivalent main event reliant on shock tactics rather than wrestling. Having said that, this years WrestleMania was still a very well packaged and enjoyable Pay-Per-View event.
SOURCES
http://www.wrestleview.com/wwe-news/53869
http://www.f4wonline.com/component/content/article/112-wrestling-observer/41491