The world of professional wrestling is in mourning following the death of the legendary Rowdy Roddy Piper last month. Piper suffered a cardiac arrest whilst at his home in Hollywood, California. He was just 61 years old.
For many kids (including myself) that first became fans in the mid-late 1980's, Roddy Piper was the definitive wrestling heel (industry jargon for a bad guy). Whether hosting his notorious Piper's Pit segment, or facing off against Hulk Hogan & Mr. T (with partner Mr. Wonderful Paul Orndorf) at the inaugural WrestleMania event, Piper was one of the industry's biggest starts during one of its most popular and lucrative periods.
He was also instrumental in making the WWF (now WWE) brand the biggest in professional wrestling. In addition to headlining the very first WrestleMania event (a pioneering Pay-Per View extravaganza that could easily have ruined the company had it proved to be a failure), Piper also featured in one of WrestleMania II's three main event matchups, thus securing his position as one of wrestling's most bankable stars.
His undercard matches at WrestleManias III, VI and (the stone cold classic against Bret The Hitman Hart at) VIII are absolute highlights of a classic era of pro wrestling. He even acted as a guest referee for the main event of Bret Hart vs. Yokozuna at WrestleMania X. Younger fans, however, will undoubtedly remember Piper teaming with fellow veterans Ricky Steamboat and Jimmy Superfly Snuka to face Chris Jericho at WrestleMania XXV.
In an era defined by outlandish babyface characters with bodybuilder physiques and sometimes questionable in-ring abilities, Roddy Piper stood out as a genuine wrestler's wrestler, an authentic tough guy – and the necessarily evil counterpoint to the simplistic, superheroic good guys being featured at the time by the WWF.
Born in Saskatoon, Saskatchewan, Canada in 1954, Roderick Toombs was always an unruly personality. Expelled from school at a young age and subsequently falling out with his father, (a member of the Royal Canadian Mounted Police) Toombs hit the road, staying in various youth hostels and earning a buck wherever he could. Eventually, the tempestuous youth wound up in a wrestling ring, making his in-ring debut at the tender age of just 15-years-old.
The kid was tough (he had a Black Belt in Judo), displayed a natural affinity for the ring and he had a roguish charisma all of his own. In addition, he really could play the bagpipes. After early stints jobbing in Verne Gagne's AWA, NWA Houston and Fritz Von Erich's Big Time Wrestling promotion in Dallas, Texas, Piper debuted for Mike and Gene LeBell's NWA Hollywood promotion and soon became the outfit's top heel. A slew of regional Championships followed.
Whilst working for promoter Roy Shire in the NWA's San Francisco territory, Piper developed his character and ring work. In Los Angeles, he feuded with Chavo Guerrero Sr, Hector Guerrero and ultimately locked up against their father, Mexican wrestling legend Gory Guerrero (father of future WWE Champ Eddie). In The Pacific Northwest, he unseated former NWA World's Heavyweight Champion Jack Brisco for Mid Atlantic's version of the World Heavyweight Championship, a title he would go on to hold twice more.
In the mid 1980's, Piper entered Vince McMahon's insurgent WWF. He was billed as being from Glasgow, Scotland and was well known for being the only wrestler to wear a kilt to the ring. Fans ate it up. Feuding with such stars as Hulk Hogan, Adrian Adonis, Andre The Giant, Jimmy Superfly Snuka, Million Dollar Man Ted DiBiase, Jerry The King Lawler and Bret Hitman Hart, to name but a few, Piper always brought out the best in his opponents and it was with the WWF that he became a household name, as well as one of the industry's biggest ever stars.
In the mid-1990's, Piper wrestled for WCW (World Championship Wrestling), where he debuted as one of the company's headline stars. He feuded, once again, with Hulk Hogan and also battled old rivals such as Ric Flair, Bret Hart and 'Macho Man' Randy Savage. Whilst working for WCW, he was even chosen to headline 'Starrcade', the company's flagship Pay-Per-View event.
In his later career, Piper made sporadic reappearances for the WWE, briefly worked for TNA, enjoyed a reasonably successful acting career and also hosted his own podcast. He battled Hodgkin's Lymphoma after being diagnosed with the illness in 2006, but had completely beaten it into remission as of last year. Despite the setbacks caused by his ill health, Piper wrestled his last match in 2011.
Although he never held a recognised World Heavyweight Championship, Piper will be remembered as one of the greatest WWF Intercontinental Champions of all time, a reign that was attested to during his appearance at this year's WrestleMania XXXI, where he congratulated then-IC Champion Daniel Bryan on his victory. He also held other notable belts, such as the United States Championship, the WWF/E Tag Team Championship (with Ric Flair) and the NWA World Light Heavyweight Championship.
Piper was a member of the WWE Hall of Fame and the Wrestling Observer Hall of Fame, as well as the Professional Wrestling Hall of Fame. He was also a member of the Cauliflower Alley Club.
On the August 3rd edition of RAW, the entire WWE roster, each member clad in Roddy's signature Hot Rod t-shirts opened the show with a very moving ten bell salute in tribute to the fallen legend.
WWE boss Vince McMahon said, "Roddy Piper was one of the most entertaining, controversial and bombastic performers ever in WWE, beloved by millions of fans around the world. I extend my deepest condolences to his family."
UFC Bantamweight Champion Rowdy Ronda Rousey dedicated her 34-second victory over Bethe Correia to Piper's memory, "I just want to say that we lost a really close friend, Rowdy Roddy Piper, who gave me permission to use his name as a fighter (…) And so I hope him and my dad had a good time watching this today."
Former WWE and WCW Champion (and Piper's frequent in-ring rival) Bret Hart wrote, "I can't find the words to describe the sorrow in my heart upon learning the news of my dear friend, Roddy Piper, passing away. He was my closest friend in the business, a man that schooled me and guided me throughout my career. In fact, if it wasn't for Roddy Piper reaching out to help me, I'm sure I would've been a mere footnote in wrestling. He was always there for me. He was family to me." Hart also recalled that, following his stroke in 2002; Piper was the only wrestler who visited him in hospital.
Hulk Hogan, another of Piper's famous adversaries, said of Piper that, "He was my best friend. He is a legend. God's gain is our loss. May his family in this time of need, find peace"
Other friends, colleagues and admirers of Piper's included former WWF Champ The Iron Sheik, who said "Roddy Piper. I love you forever. God bless you Bubba" and multi-time World Champion Chris Jericho Tweeted, "Sorry to hear of the passing of my friend and Wrestlemania rival #RoddyPiper. One of the greatest who ever lived, but more importantly a legit sweet family man with a good heart". Former WWE Divas Champion Paige called Piper a "legend" and Tweeted a picture of a broken heart, an image which reflected the feelings of many a wrestler and wrestling fan.
Roddy's son, Colt, said that his father was his "best friend" and a "great man" saying that he would miss him forever and "always try to be the man he raised me to be".
Rowdy Roddy Piper lived a life littered with accomplishments. Not many of us will ever be declared as legendary by our peers and fewer still will be able to stack 30+ Championship reigns anywhere on our resume, but those weren't the man's proudest achievements. Piper had been married to his wife, Kitty, since 1982 and is survived by her and the four children they lovingly raised together. My thoughts are with them, as well as everyone else who knew, worked with, or simply enjoyed to watch the late, great man work his magic in front of a capacity crowd. R.I.P Roddy.
Unless you happen to be a natural history buff or a science nerd, the word extremophile probably won't mean much to you. However, once the world's public has a chance to fully absorb the implications of a discovery made this month, I can pretty much guarantee it'll be on everybody's lips sooner or later.
Basically, an extremophile is an organism that thrives in conditions that are seemingly too extreme to support any kind of life. Last year, for example, scientists confirmed the existence of microorganisms living half a mile below the ice of Antarctica, but that isn't the weirdest place you can find microbial life. Different types of extremophiles have been observed in places as inhospitable as the bottom of the Pacific Ocean, the driest deserts on Earth, boiling hot springs and even deep sea hydrothermal vents.
This month's confirmation that liquid water exists on Mars has gotten a lot of people – myself included – wondering if the Martian landscape may include an extremophile, or two (billion, that is). In general, the rule of thumb here on Earth is that water generally supports life. Of course, it'll be a while before we know for sure if the same holds true on the Red Planet, but the potential implications for such a discovery are literally enormous. It would be final, incontrovertible proof that Humankind is not alone after all and that, somewhere out there, life does indeed exist on other worlds. Just take a second and imagine that.
…But that isn't to detract from the enormous significance of finally confirming that there is water on Mars, a planet long considered to be dead and devoid of anything even remotely connected with life as we know it.
New data retrieved from a NASA satellite has been used to link the long, dark streaks that appear on Martian slopes with salt deposits. If this is indeed the case, then these salt deposits could allow water to remain in a fluidic state for long enough for it to move around. This is no mean feat, as Mars features average temperatures well below zero and the low atmospheric pressure means that any liquid water would boil instantly. However, it has been theorized that the deposits of salt could change all this, altering the freezing and vaporization points of water and, in the process, allowing for the existence of the life giving liquid.
Long-term observation of the Red Planet corroborates this theory, as the streaks tend to change with the seasons, leading some scientists to link them with trickling water, however this could never be proven, until now.
Luju Ojha, a PhD student at the Georgia Institute of Technology, has used data from NASA's Mars Reconnaissance Orbiter, which makes use of an instrument called Crism to determine the chemistry at work on the Martian surface, to make the incredible claim.
By employing the Crism data and looking at four separate locations where the dark streaks regularly appear and disappear during the Martian summer, Mr Ojha was able to prove that these formations are covered with salts, particularly magnesium perchlorate, chlorate and chloride, the exact types of salts that are known to alter the freezing and vaporization points of running water.
So, it is fairly safe to say that we now know that there is water on Mars. The next big question (before we get to the possibility of anything living in it) is, where is it coming from? It has been suggested by some that ice exists at a great depth below the surface and by others that the salts are literally pulling moisture from the atmosphere itself. For now, we just don't know.
…And now back to the million Dollar question, first put to us by the philosopher David Bowie in 1973, Is there life on Mars?
Interviewed by BBC News, Dr. Joe Michalski, a Mars researcher at London's Natural History Museum was optimistic, "We know from the study of extremophiles on Earth that life can not only survive, but thrive in conditions that are hyper-arid, very saline or otherwise extreme in comparison to what is habitable to a human. In fact, on Earth, wherever we find water, we find life. That is why the discovery of water on Mars over the last 20 years is so exciting."
The wonderful, exhilarating reality of this discovery is that, through its profound implication, you may very well see within your lifetime an answer to that most vexing (and famously unanswerable) of questions, are we alone in the universe?
Anton Purisima, a New Yorker known for filing abnormally large lawsuits over trivial things (even by American standards) and generally for being nuttier than squirrel sh!t, has achieved what is probably his lifetime ambition of filing the world's largest lawsuit.
Apparently, before he was overcharged for a cup of coffee (oh, the horror!), Purisima was photographed without his permission by Chinese tourists and then got bitten by a dog (nice one, Fido!). For these (ahem) injustices, he is asking for the grand sum of (wait for it) $2,000,000,000,000,000,000,000,000, 000,000,000,000 in damages.
Two undecillion Dollars (a two with 36 zeroes after it) is more money than presently exists on the entire planet, of course.
Frankly, we hadn't seen this many zeroes since the last Conservative party conference…
According to the loony litigator, the dog was rabid (we can only hope) and it bit his middle finger. The funniest thing about this case, then, is that every time Mr. Purisima is asked to present his evidence, he will likely be found in contempt of court.
Defendants named in the suit include the Au Bon Pan store (whose La Guardia airport outlet apparently sells overly expensive coffee), The New York Transit Authority and Hoboken University Medical Center (who may, or may not, have botched some sort of experimental brain surgery upon Purisima. Admittedly, that's guesswork on my part, but it would certainly answer a lot of questions…)
I mean, who goes to an airport for cheap coffee!? If American airports are anything like their British counterparts, you'd have to take out a second mortgage on your home just to afford a ham and cheese sandwich…
Apparently, his pain and additional damages "cannot be repaired by money", which seems especially odd considering he is asking for so much of it, really. That's a bit like saying that hunger can't be cured by food, whilst queuing up in a McDonalds…
Purisima's previous activities include attempting to sue The People's Republic of China (no, really), as well as several major American banking chains.
Purisima filed his (hand written) lawsuit to a federal court in April and is (somewhat unsurprisingly) representing himself. Reports do not say if he was wearing a tutu and honey-glazing his own nipples at the time, but it seems likely.
The tomb of an ancient Egyptian queen previously unknown to history has been discovered this month.
Queen Khentakawess III (also referred to as Khentkaus III) lived in the fifth dynasty and is believed to have been the wife of Pharaoh Neferefre and the mother of Pharaoh Menkauhor Kaiu.
Until this discovery, this ancient queen was completely unknown to recorded history.
The tomb was found in Abu-Sir, South-West of Cairo, within the funeral complex of Pharaoh Neferefre. It is thought to be some 4,500 years old. Reliefs in the tomb referred to Khentakawess both as "wife of the king" and also as "mother of the king", which suggests that she was the wife of Neferefre and the mother of his possible son, the Pharaoh Menkauhor Kaiu.
When archaeologists discovered that the name Khentakawess had been inscribed on the walls, they dubbed her Khentakawess III, as there are two prior queens to have used the name, including the mother of Neferefre.
The queen's tomb held around 30 utensils fashioned from limestone and copper.
Phahaoh Neferefre's reign is believed to have been a short one. Modern scholars contend that he only reigned for one, or maybe two years at best. This is corroborated by data from the Turin King List and the fact that his tomb was never properly completed, but was seemingly rushed to competition following his premature death (detailed analysis of the king's remains suggests that he died in his early 20's).
Today, Egyptologists know the tomb of Pharaoh Neferefre as 'The Unfinished Pyramid'.
Pharaoh Neferefre was succeeded by his brother Nyuserre Ini, who is thought to have reigned for at least 24 years. Nyuserre Ini was himself succeeded by his nephew, Menkauhor Kaiu, apparently the son of Kentakawess III.
Pharaoh Menkauhor Kaiu ruled for 8-9 years and was eventually interred in a badly damaged tomb today known as 'The Headless Pyramid'
Tracking the lineage of Egypt's ancient kings and queens is a tricky task and the notion that Khentakawess III was the wife of Neferefre and the mother of Menkauhor Kaiu is disputed. However, at the time of writing this, the consensus seems to be that this is her likeliest place in history.
Egyptian antiquities Minister Mamdouh el-Damaty was hopeful that the discovery of this new tomb/monarch would help archaeologists and historians understand more about the Fifth Dynasty, which, along with the latter days of the Fourth Dynasty "witnessed the construction of the first pyramids".
Communication is extremely important in business, whether you're business offers a security service or just likes to keep certain departments in close communication. There are many options for you to choose from when it comes to effective communication within your business, but a two way radio system is by far one of the best.
Buying two way radios for business use can be extremely overwhelming, there are many different types of radios available on the market. Not being properly educated on the features and specifications of each one could have a very negative impact on your business.
Why Should I Choose Two Way Business Radios?
Using a two way business radio is much more advantageous compared to other communication options such as a mobile phone. When you decide to use a two way radio system, you're getting away from all the distractions that other communication methods have.
These business radios only have the features that you need, which will result in better communication, an increase in productivity, increased safety, and so much more.
Where Will I Use the Two Way Business Radios?
One thing that you need to think about before you decide which radio system to buy is where you will be using the radios. If the radios will be used mostly outdoors then a VHF two way business radio would be your best option . On the other hand, if radio usage will be confined mainly indoors then you'll want to go with UHF radios.
Speak with your local deal about your circumstances specifically, he/she will help you find the best radio for your usage requirements.
So What Types of Two Way Business Radio Are There?
There are four different types of two way business radios available on the market today. Let's take a quick look at each of these options:
Handheld — The most common type of two way radio, these are the handheld devices often used by security firms.
Vehicle mounted mobile — The best choice for drivers and anyone who will be spending long amounts of time in a vehicle.
Desktop base station — These radios connect to a main power source and an external antenna to achieve an excellent range.
Repeater base station — A repeater base station is a device that can boost the operational range of your radio systems.
How Do I Choose What Sort of Two Way Radio System I Need?
You need to think about what sort of radio you'll need, there are many varieties available. Think about how many people you are planning to have on your frequency, what operational range you'll need, what type of radio system (we've discussed this above), your budget, and other factors. It's always a wise decision to talk with your local radio dealer.
There are also a few extra features that you might want to consider. For examples, if you would like your two way radio system to have an emergency call feature, selectable power, or any type of accessories, this is something you should think about.
Analogue or Digital Two Way Business Radio?
Choosing between an analogue or digital two way business radio is extremely important and something that you'll definitely want to consider. Apart from lower cost, there really isn't any reason to choose an analogue radio over a digital one.
There are many benefits with digital two way radios when compared with analogue. Digital radios can handle more users, offer better sound quality, and provides more stable audio.
Closing Notes
Two way radios can be extremely beneficial for just about any business, as proper communication is becoming more important each and every day. You need to make sure that the radio you decide to purchase meets your criteria and can fulfill your needs properly. The advice and guidance given above will help you with this.
Don't forget that you will need a license to operate your business radios, this can be acquired by reaching out to Ofcom. 2wayradionline should be able to help you with your license application and your radios.
Oh, now THIS is cool. A new phone unveiled by Chinese corporation Lenovo (makers of the Ideapad tablet, amongst others), will be able to project interactive objects, such as virtual keyboards or piano keys onto almost any flat surface.
The 'Smart Cast' phone (which could have been branded better, it has to be said) will also be able to project videos and photographic content onto walls, desks or any other flat surface, allowing the user to share videos (and even potentially screen movies) with multiple viewers.
The phone is able to project a fully functional replica of its own touch screen, or even a full-size computer keyboard if desired.
Despite being utterly tiny (34mm x 26mm x 5mm), the phone's laser projector does not need focussing in order to project far larger images onto walls, desks, or anywhere else you might need to project an image (and for all you nerd lings aiming on creating a pocket Bat-Signal, forget it. I got there first!).
The projector itself can also be manually moved into at least one other position, which ensures that the projection quality should always be first rate.
…It even has a motorbike style kickstand to keep it upright when you're using the virtual keyboard. How cool is that?
Justifiably proud of their new creation, Lenovo hired Chinese concert pianist Lang Lang to play the phone's virtual piano as projected on the desk in front of him. I suppose they could afford to, as it was recently announced that their profits are up 20% from last year.
Of course, projector phones have been explored in the past, usually without success. The Samsung Galaxy Beam, released in 2012, was a failure of Star Trek: Into Darkness proportions (the joke being in the 'beam me up' area – in case you missed that) and the technology is notoriously hard to use. Still, perhaps this time somebody has finally gotten it right? Time will tell…
Sadly for us Brits, the Smart cast phone seems unlikely to be released here in the UK, so for us, it's all a moot point in the end.
The Smart Cast phone was officially unveiled at Lenovo's Tech World conference in Beijing, China, an event that also saw the debut of a new smartwatch, which has a 'public' and 'private' mode for some reason (all I can imagine it would be useful for is if somebody asked you the time whilst you were watching porn – at which point, keeping the screen on your wrist would defeat the object somewhat anyway).
It is open to interpretation as to whether or not the Smart Cast phone will be a stroke of consumer electronics genius or a costly failure, but for now, the early buzz certainly looks intriguing and you can pretty much guarantee that various engineering bigwigs employed by other developers will be following its progress with interest.
The BBC has unveiled a new piece of tech that sci-fi icon Doctor Who himself would be impressed by.
The corporation has started developing a low-cost brainwave-reading headset that will allow users to open a new version of iPlayer and control it using their mind.
The BBC has been working with This Place on an early prototype called 'Mind Control TV', which can read the user's brainwaves and send signals to an experimental version of iPlayer to select a TV programme to view.
At this stage it's an internal prototype that is being used by the BBC's programme-makers, technologists and other users to give them an idea of how it can be employed in the future.
The main advantage of this technology would be to improve accessibility for those with disabilities, while future applications could include a more convenient user interface.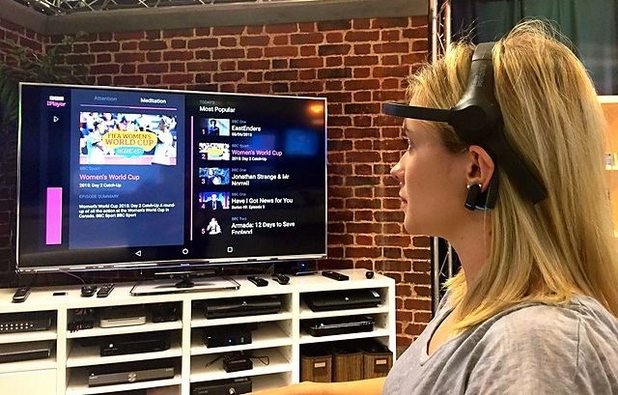 The 'Mind Control TV' is in the very early stages of experimentation and the technology doesn't yet work with the existing iPlayer application.
However, does it actually work with a special version of the software? Cyrus Saihan, Head of Business Development, BBC Digital says: "In a word, yes.
"Our first trial run saw 10 BBC staff members try out the app, and all were able to launch BBC iPlayer and start viewing a programme simply by using their minds.
"It was much easier for some than it was for others, but they all managed to get it to work. And it's been a similar story for everyone who's tried it out in our BBC technology Blue Room since."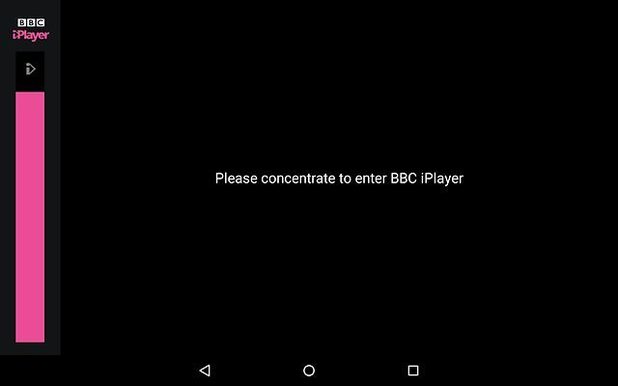 Explaining why the BBC and This Place decided to focus on mind control, Saihan said: "A subject popular in works of fiction is the ability to control things just by using your mind.
"The idea of being able to simply think about something and then magically make it happen has fascinated people for many years.
"Whether it's using 'the Force' in Star Wars, spoon bending on stage or The Matrix, controlling objects simply with your brain has a unique appeal and could open up a whole world of possibilities."
He continued: "So when we learnt that new technologies were now available in the market that allowed you to control electronic devices by measuring the brain's electrical activity, we wanted to experiment with the technology to see what types of audience experiences this might result in.
"There were two areas that immediately stood out for us: improving accessibility and the potential of a new user interface."
The BBC has stressed that the new technology is in its infancy, but brainwave-reading devices are rapidly improving despite their basic capabilities at this stage. To find out more about the project, visit the BBC's Internet Blog.